Brussels Sprouts Gratin
Disclosure: This post is sponsored by America's Dairy Farm Families and Importers, in partnership with the Innovation Center for U.S. Dairy. As always, I only partner with brands that I love and truly believe in, allowing me to create more quick and easy recipes to get us through the week without breaking the bank. All opinions expressed are my own.
These brussels sprouts are absolutely to die for!!! So amazingly crisp-tender and baked perfectly in the BEST cream sauce ever!!!

Remember my quick 1-day trip to Merced, CA a few weeks back?
Well, I was able to experience firsthand what life on the dairy farm is really like.
For both the farmers and the cows.
I learned just how much the dairy community truly cares about their animals in every way possible – from their diet to the steps they take around the farm!
I was so surprised to learn that the farmers on the farm I visited meet with the nutritionist every 2 weeks to ensure the cows' diet is well-balanced, and provides them the nutrients they need to maintain their health and ultimately, produce tasty, nutritious milk.
They check their weight, overall activity, milk production and adjust nutrition based on pregnancy or changes in milk production.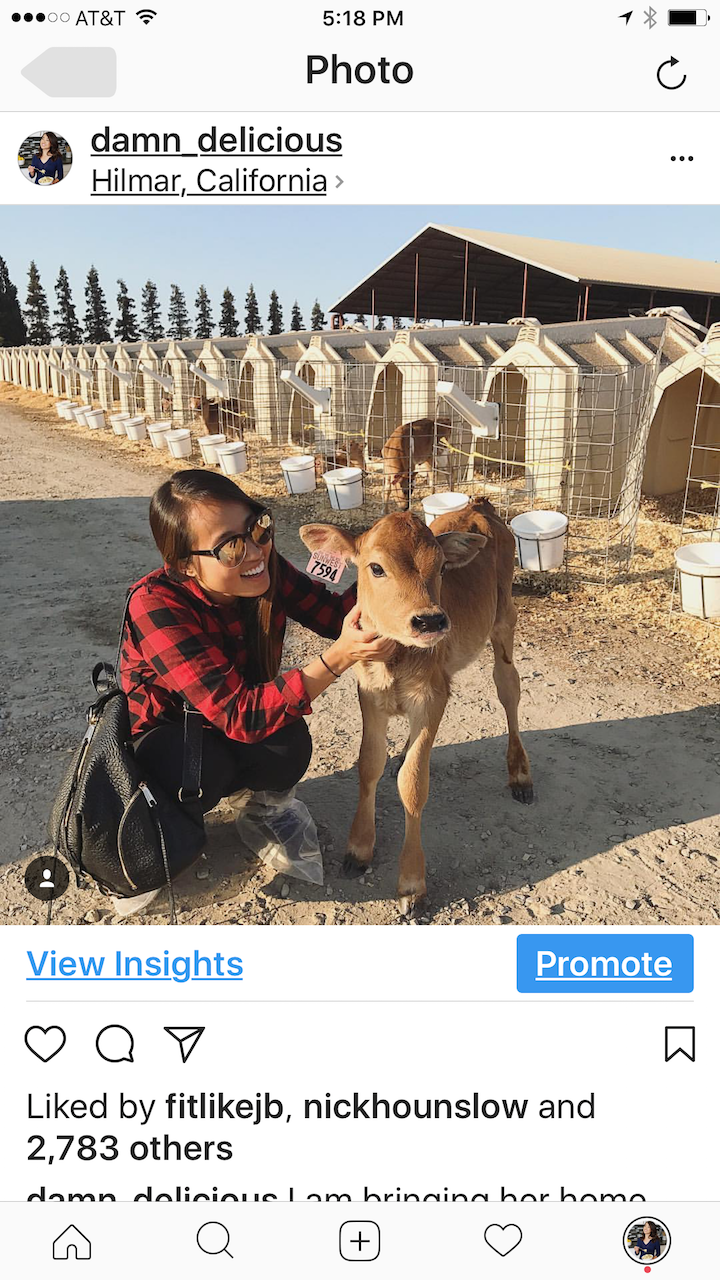 There is just so much care and research that goes into the cow's food preparation to deliver proper nutrition including developing meals made of a mix of grains, alfalfa, hay and more.
Our farmer even told us that they found if corn kernels are left whole, the cows wouldn't receive all the nutritional benefits of the corn. So at this farm, they crack the kernels one more time so it can be broken down properly when ingested!
We also visited the Hilmar Cheese Company, which uses the milk from the farm we visited to make cheese.
And what's great is how there is a constant chain of care and efficiency, and this is true at Hilmar.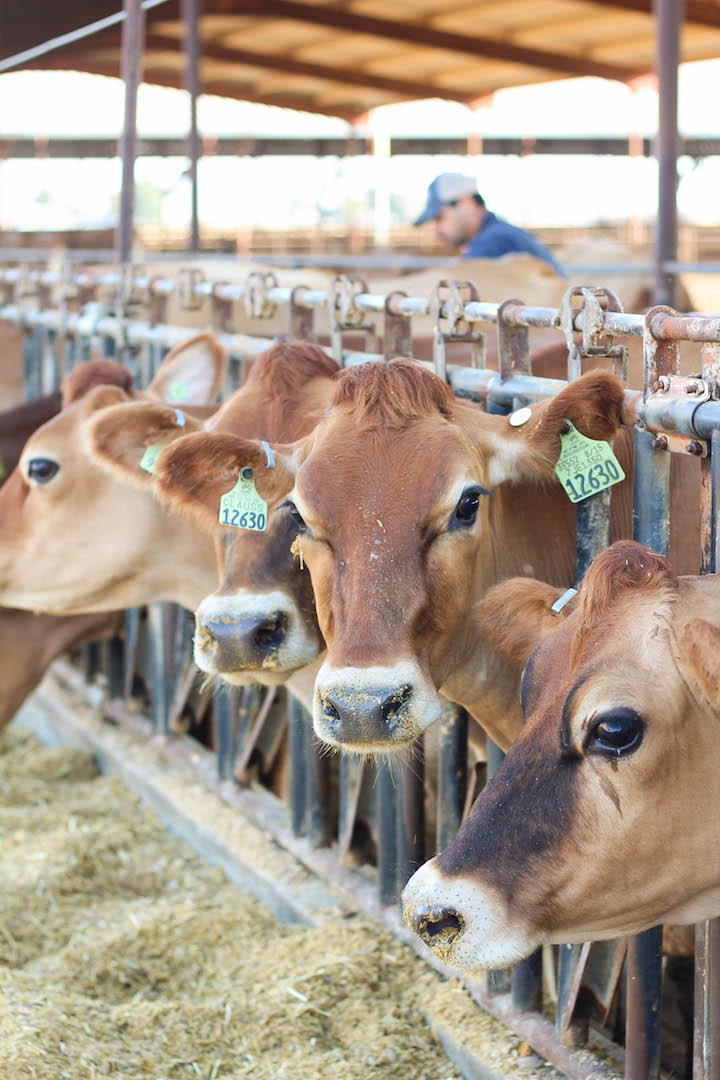 They work to use everything they can so no resources go wasted during the cheese-making process. So once the curd is separated from the whey, a lot of water is leftover, since 85% of milk is water. Yet Hilmar recycles the remaining water, using it to clean their own facility!
Talk about 100% efficiency.
So, after a dairy farm visit and cheese visit, I couldn't help but make something that includes both.
A brussels sprouts gratin, with plenty of milk, cheesy goodness, and crumbled bacon
And just in time for the holidays.
But let's be real.
You know we'll be having this in the middle of summer next year.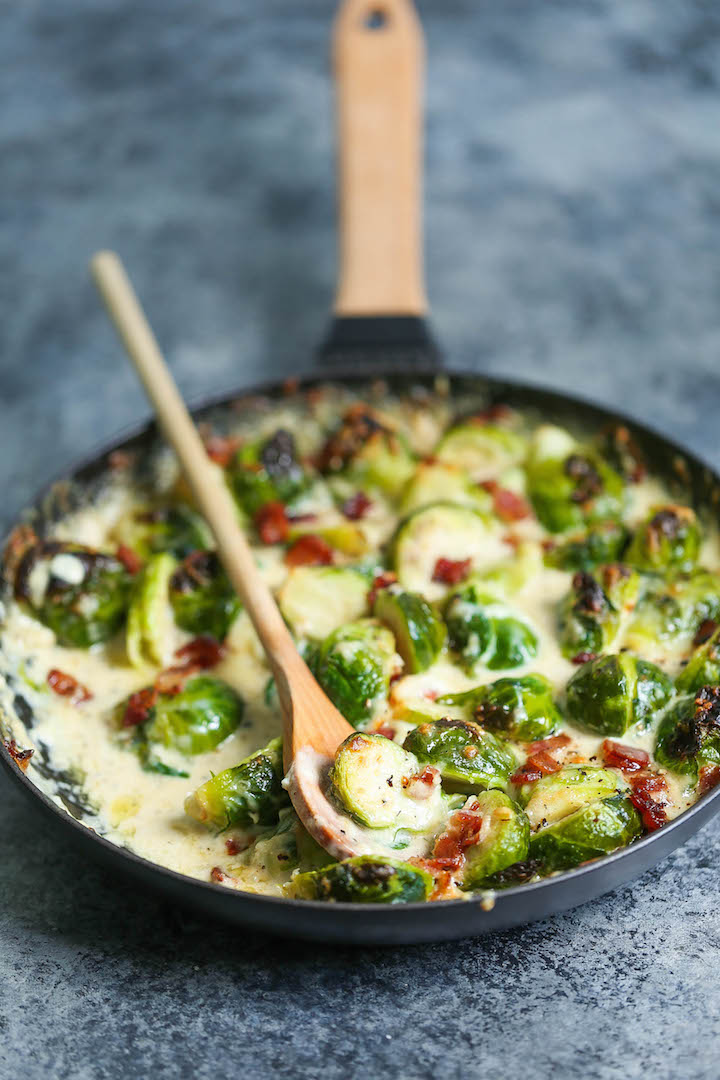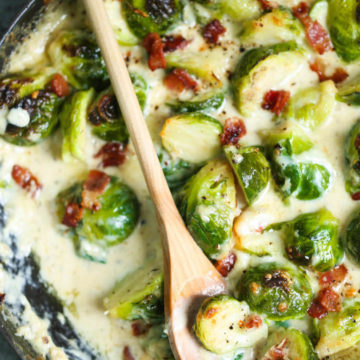 Brussels Sprouts Gratin
These brussels sprouts are absolutely to die for!!! So amazingly crisp-tender and baked perfectly in the BEST cream sauce ever!!!
15 minutes
30 minutes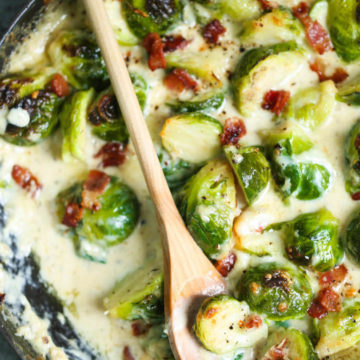 Ingredients:
2 pounds brussels sprouts
4 slices bacon, diced
3 cloves garlic, minced
1/4 cup diced shallots
2 tablespoons all-purpose flour
3/4 cup whole milk
1/4 cup heavy cream
1/2 teaspoon dried thyme
1/4 teaspoon ground nutmeg
Kosher salt and freshly ground black pepper, to taste
1 1/4 cups shredded Gruyere cheese, divided
Directions:
Preheat oven to 400 degrees F.
In a large pot of boiling salted water, blanch brussels sprouts until crisp-tender, about 3-5 minutes. Drain well and cool in a bowl of ice water. Drain well and set aside.
Heat a large oven-proof skillet over medium high heat. Add bacon and cook until brown and crispy, about 6-8 minutes. Drain excess fat; reserving 1 tablespoon in the skillet. Transfer bacon to a paper towel-lined plate.
Add garlic and shallots to the skillet, and cook, stirring frequently, until fragrant, about 2 minutes.
Whisk in flour until lightly browned, about 1 minute. Gradually whisk in milk, heavy cream, thyme and nutmeg. Cook, whisking constantly, until incorporated and slightly thickened, about 1-2 minutes. If the mixture is too thick, add more milk as needed; season with salt and pepper, to taste.
Stir in brussels sprouts, bacon and 1 cup cheese until the cheese has melted, about 1-2 minutes. Sprinkle with remaining 1/4 cup cheese.
Place into oven and bake until golden brown and bubbly, about 20-25 minutes.
Serve immediately.
Did you Make This Recipe?
Tag @damn_delicious on Instagram and hashtag it #damndelicious.